Bomb and Parachute Drop
Contest 2022
Sunday, October 9th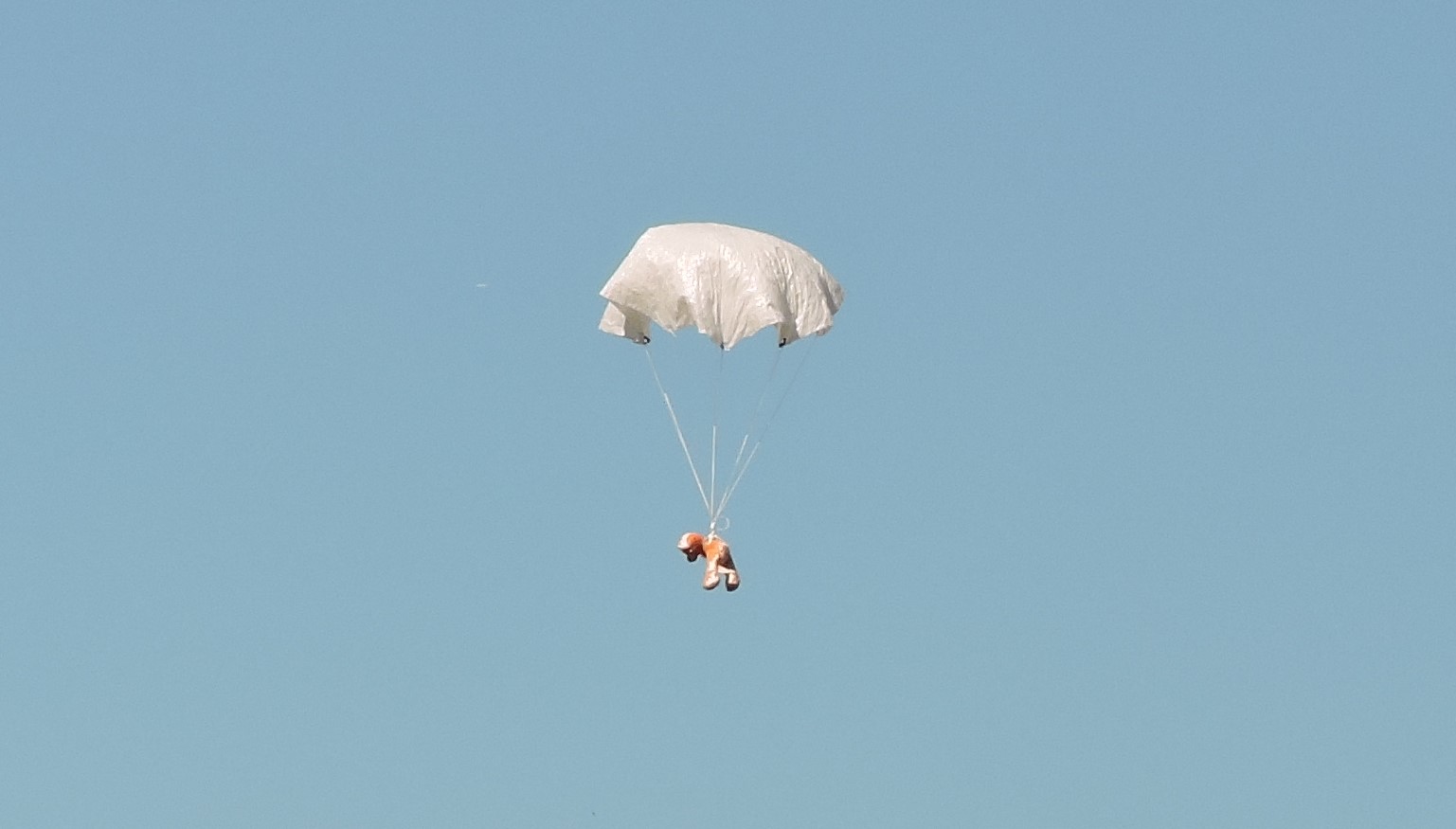 2022 MCRSC Bomb/Parachute Drop Contest
The 16th Annual MCRCS Bomb/Parachute Drop Contest took place on October 9th with decent sunny weather although temperatures started out in the low forties. Temperatures warmed up to about 60 degrees although winds picked up to about 10 mph with higher gusts toward the end of the contest. We had 9 entrants in the Bomb Drop and only 4 entrants in the Parachute Drop. This was a slightly lower turnout of participating pilots from the previous year but we still had a good number of non-participating members watching on. Some members called it quits after only 1 flight when they watched their bombs drop and forgot about watching their planes. Again, for this year's contest, we only used a point system and counted all three drops. This incorporated a 50-foot diameter circle in addition to the other inner circles which works great for keeping score with no tedious measuring. We had our monthly membership meeting after the contest along with a great lunch with all the fixings. Contest Director was Carl Gubkin but we also need to thank Irwin Keshner, Jim Meighan, Chris Leeds, and Brian Bunda for their help in making the day a great success!
2022 MCRSC Bomb/Parachute Drop Contest Standings
The following are the standings of the bomb and parachute drop contests:
Bomb Drop
1st Place Carl Gubkin (Tundra) – 10 Pts.
2nd Place Nobu Iwasawa (Votek) – 5 Pts.
3rd Place Bob Tharp (Fun Cub) - 4 Pts.
4th Place Bob Levandowski (Ultra Stick) - 3 Pts.
5th Place Tie – Steven Baker (Fox Glider), Greg Lucidi (Tundra) - each had just 1 point
Other Participants included David Ramsey (T-28), Ben McMichael (480 Leader) and John Zangrando (Stick)
Parachute Drop
1st Place Carl Gubkin (Tundra) – 5 Pts.
2nd Place Nobu Iwasawa (Votek) – 3 Pts.
3rd Place David Ramsey (T-28) – 2 Pts.
Bob Tharp entered but did not place.