Bomb and Parachute Drop
Contest 2023
Sunday, November 5th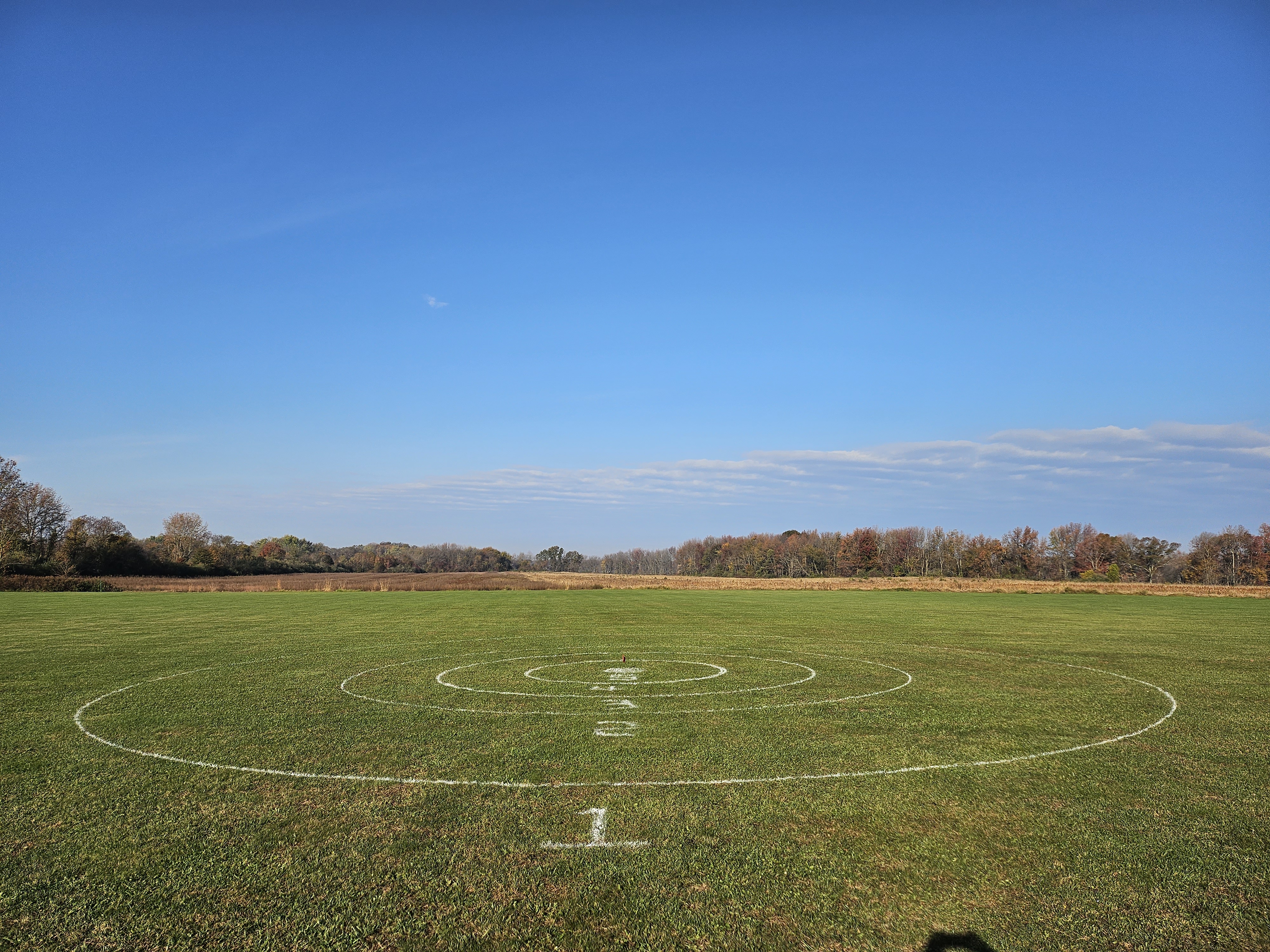 2023 MCRSC Bomb/Parachute Drop Contest
After 4 weeks of bad weather delays, the 17th Annual MCRCS Bomb/Parachute Drop Contest finally took place on November 5th. Patience paid off and we were rewarded with a beautiful day with both sunny weather and low winds. Temperatures warmed up to the low sixties which was unusual for a November day. We had a great turn-out with 12 entrants in the Bomb Drop but only 2 entrants in the Parachute Drop. This was because several of the pilots watched their bombs drop and not their planes. One pilot used a bow for a bomb and another used a golf ball which I think he is still looking for. We also had a good number of non-participating members watching on or flying planes not in the competition. Again, for this year's contest, we used just the point system and counted all three drops. This incorporated a 50-foot diameter circle in addition to the other inner circles which works great for keeping score with no tedious measuring. Early in the day, Jim Meighan set up a table of free RC Estate items and awarded a trainer aircraft to a Junior Member. At the completion of the contest, Irwin cooked up hot dogs and hamburgers with Jim supplying all the fixings. Contest Coordinator was Carl Gubkin but we also need to thank Irwin Keshner, Jim Meighan, Matt Ignarski and other club members for their help in making the day a great success!
2023 MCRSC Bomb/Parachute Drop Contest Standings
The following are the standings of the bomb and parachute drop contests:
Bomb Drop
1st Place Carl Gubkin (Tundra) – 9 Pts.
2nd Place Johannes (Calypso sail plane) – 8 Pts.
3rd Place Nobu Iwasawa (Votek) – 6 Pts. – Crash after 3rd drop
4th Place Tie - Stephan Baker (Fox 3000 sail plane), Weng Loh (Hummer/Piper Cub) - 5 Pts.
5th Place Bob Levandowski (Ultra Stick) - 4 Pts.
6th Place Tie - Greg Lucidi (Fun Cub XL), Steve Barr (Ranger), Irwin Keshner (SBach 342), Ben McMichael (480 Leader) - each had 3 points – Irwin crashed after 2nd drop
Other Participants included Muhammad Mirza (Piper) and Andy (Fun Cub)
Parachute Drop
1st Place Carl Gubkin (Tundra) – 5 Pts.
2nd Place Johannes (Calypso sail plane) – 2 Pts – 2nd drop hit the bullseye but the chute did not open