2008 Civil Air Patrol Weekend
Eleven Cadets, Five Airplanes, Three Days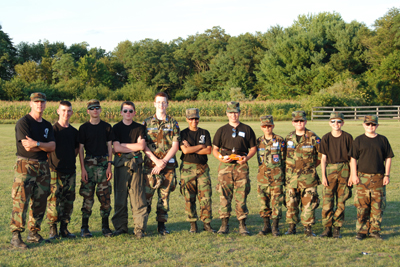 Civil Air Patrol Captain Ulric Gordon-Lewis brought eleven cadets with him this year.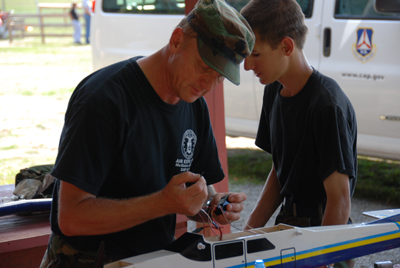 Capt. Gordon-Lewis organized the event, including flight, food, equipment, and accommodations.

SSgt. Scott Eshelman (ET) kept the models flying and also instructed on the flight line.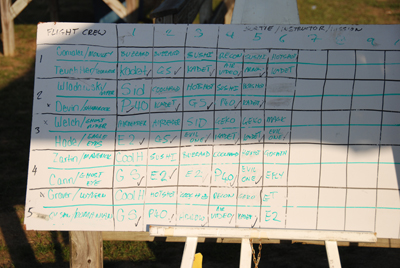 A status board helped track who was doing what and when.

Nobu Iwasawa and several other Mercer County pilots worked as instructors.

Washington's Crossing president Nick Maggio (center) was also an instructor.

John Radway (center) of Washington's Crossing instructed another pair of cadets.

No, this is not a scene from Field of Dreams, but rather yet another search-and-rescue mission.

The corn was not always gentle.

A free-flight helicopter, seemingly designed to crash, provided relaxation after a day of instruction.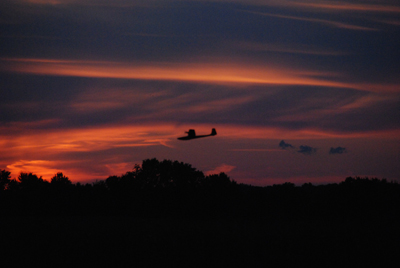 The cadets were determined not to waste a minute of daylight.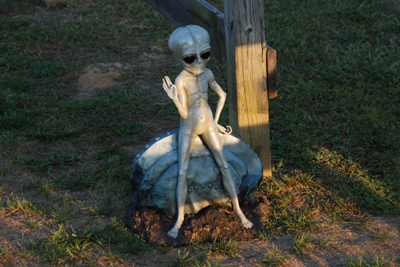 A heli pilot from another club?

No, a visitor with the Astronomical Society of the Toms River Area (ASTRA).
On August 22nd through 24th our club, along with the Washington's Crossing club, hosted a training event for the Civil Air Patrol (CAP). This now annual training event began last year when then AMA District 2 Vice President Dave Mathewson facilitated contact between CAP and these two clubs.
The Civil Air Patrol, established in 1941, is the civilian auxiliary of the United States Air Force. It was formed with an initial mission to patrol the mainland coastlines to detect enemy incursions. Currently an organization of about 57,000 members, it has four primary missions: Aerospace education, cadet programs, homeland security, and emergency services.
The cadet program of the CAP includes approximately 23,000 members aged 12 to 21. Two years ago, under the guidance of Captain Ulric Gordon-Lewis, Commander of the New Jersey Bayshore Composite Squadron, CAP added radio control modeling to its cadet programs, the goal being to engender an interest in RC modeling among cadets and then teach them to fly. This year Capt. Gordon-Lewis brought eleven cadets (ten trainees and one instructor) and about half a dozen fully tested flying models.
Last year's two-day training program had proved a bit short to accommodate the content that had been designed into the program. Thus, this year the program was expanded to three days. Furthermore, the fleet of fully tested and ready-to-fly models resulted in a quick start. After a brief ground school, the first cadets were airborne shortly after 10:00 on Friday.
The weather cooperated the entire weekend, skies remaining virtually clear the first two days and winds relatively calm the whole weekend. With the assistance of over a dozen instructors from the two clubs, the cadets were kept flying almost the entire day every day.
Of course, there was the occasional mishap, most frequently involving the corn field. But the CAP team, trained in search and rescue, was particularly adept at finding and retrieving errant models from the corn. Although the recovery didn't always result in a repairable model, at least no model parts were left in the corn field to inadvertently enter the food chain.
Saturday night the cadets and interested club members were treated to a star party by the members of the Astronomical Society of the Toms River Area (ASTRA). Bringing their large, often computer-controlled, telescopes, ASTRA members provided clear views of distant stars, star clusters, and nebulae.
Graduation was Sunday afternoon and, this year, one student, Brian Cann (Ghost Eye) completed all the requirements to officially solo. Although it could be seen as disappointing that only one in ten soloed in three days of training, we must remember that it took most of us several months to solo.
Club member Allan Schear has produced a short video of the event, which is available at this link on YouTube.
Participating CAP members (along with their call signs) were:
C/CMSgt Ryan Olson - Romanian
C/SSgt Scott Eshelman - ET (Instructor)
C/TSgt Stephen Grover - Wyvern
C/SSgt Michael Zartin - Maverick
C/SrA Jonathan Teuchtler - Terminator
C/SMSgt John Devin - Shamrock
C/MSgt Vanessa Gonzalez - Monkey
C/SSgt Brian Wlodawski - Viper
C/SMSgt Blaise Hode - Eagle Eyes
C/A1C Brian Cann - Ghost Eye
C/TSgt Thomas Welch - Ghost Rider
Club flight instructors (also with their call signs) were:
Nick Maggio - Magician
Keith Zimmerly - Taz
Armand Graziani - Rocky
David Vale - Goliath
Pat Monacelli - Binky
Walt Siedlecki - Sid
Seth Hunter - Airbender
Jon Radway - Hotshot
John Kukon - Coolhand
Nobu Iwasawa - Sushi
Gene Goroschko - Gecko
Sal Lucania - Oh No
Bob Levanduski - Levy
Dean Pappas - Buzzard