Dawn Patrol Day 2009
The Air Was Thick -- With Biplanes

Warren Kruse Field filled with biplanes, Nieuports like this 17 being most popular.

Oldtimers were also welcome and plentiful at this event.

Occasionally it was possible to find your own piece of sky..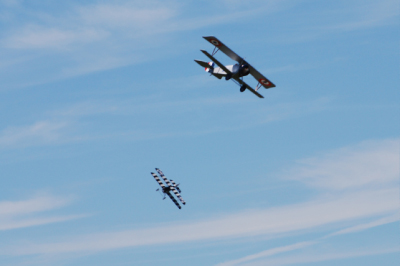 Usually, though, you had to share.

At Mercer County, our leaders prefer to follow.

And will do almost anything to get there.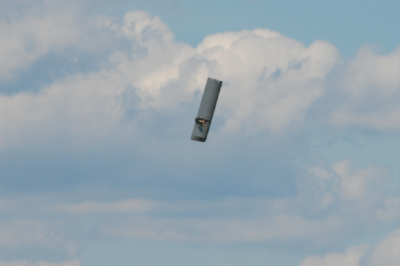 It's always good to remember thses models have a 10G design limit.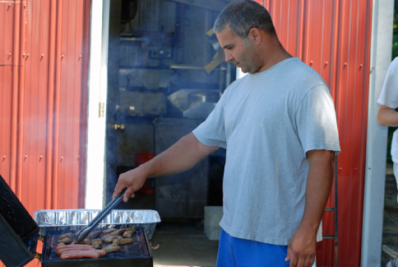 Pat "Binky" Monacelli staved off hunger at the event.

As an appetizer, we got to watch Keith Zimmerly adjust his Gotha.

For dessert, we got to see it fly.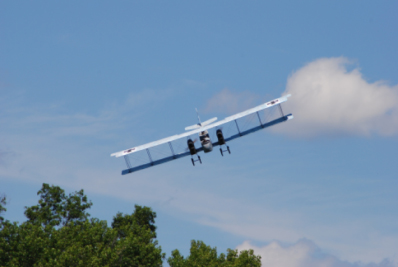 Watching a bombing run, you almost want to run for cover.
Last year it was a little hot for Dawn Patrol and Oldtimer Day. This year, it was just about right. And to confirm that, it seemed like every club member with a biplane or oldtimer brought it to the field -- and flew it. At one point, there were nine models in the air at once.
Nieuports, primarily 17s, seemed to be the model of choice. But, to make it interesting, there were a few Fokkers as well. And, for the most part, they played nice. Of course, that certain red, white, and blue blue Fokker seemed intent on chasing all the other planes around the sky.
It's difficult to recall a time at an event when Keith Zimmerly didn't have the largest model on the field. This time, it was no different. Although he spent most of the day getting the twin engines to run at just the right speed, when his 19+ foot Gotha Bomber took to the air, all eyes were on it -- from the moment it taxied out until it taxied back in. It's hard to remember that it's just a model.
Of course, it wouldn't be an event without food. Pat "Binky" Monacelli cooked up a grill-full of hot dogs and brats and all the hungry pilots (an spectators) dug in and appreciated his efforts.
For the most part, the day went off without any serious mishaps. Of course, with old biplanes, one has to expect a wing to fold and a model to return somewhat too rapidly to earth. That happened, but only once. Otherwise, it was a great day to be an aeromodeler.
Allan Schear recorded key happenings of the day. His video short is available for viewing on YouTube. Last year's web page is available here.